Trebinje, Bósnia-Herzegovina
Trebinje is located in the southernmost part of Republic of Srpska (Bosnia and Herzegovina), on the crossroads between the cities under the Protection of UNESCO (Kotor, Mostar and Dubrovnik), and only 25 kilometers from the Adriatic coast.
Watch the video by Tourist Organisation of Trebinje.
Through its long and turbulent history Trebinje has always been a cross- roads and a link between the Mediterranean and the interior of the Balkan Peninsula. The Illyrians, Romans, Slavs, Byzantines, medieval rulers of Serbian Nemanjic state, and then the Ottoman Empire and the Austro-Hungarians all passed this crossroads, and eventually Trebinje became a town on the border of Bosnia and Herzegovina, Montenegro and Croatia. All these eras and rulers left their traces and marked local culture, both spiritual and material.
Each year, Trebinje has many visitors from all continents.  Very favorable traffic-geographical position and Mediterranean climate with a lot of sunny days (260 a year) make it an ideal place for living or spending a perfect vacation.
Cultural Tourism
It is the city with largest number of national monuments in Bosnia and Herzegovina. Its Old Town, Arslanagic bridge (as old and beautiful as the one in Mostar), churches, cathedrals, mosques and monastaries, famous wine cellars and organic healthy food (high quality honey, cheese products, prosciuto etc.) attract tourists from all over the world, year after year.
The city is also known as undiscovered jewel of Bosnia and Herzegovina and alongside cultural tourism with its surroundings it offers various activities such are: paragliding, hiking, kayaking on the beautiful river Trebisnjica (once the biggest sinking river in Europe), cycling on the old train trails etc.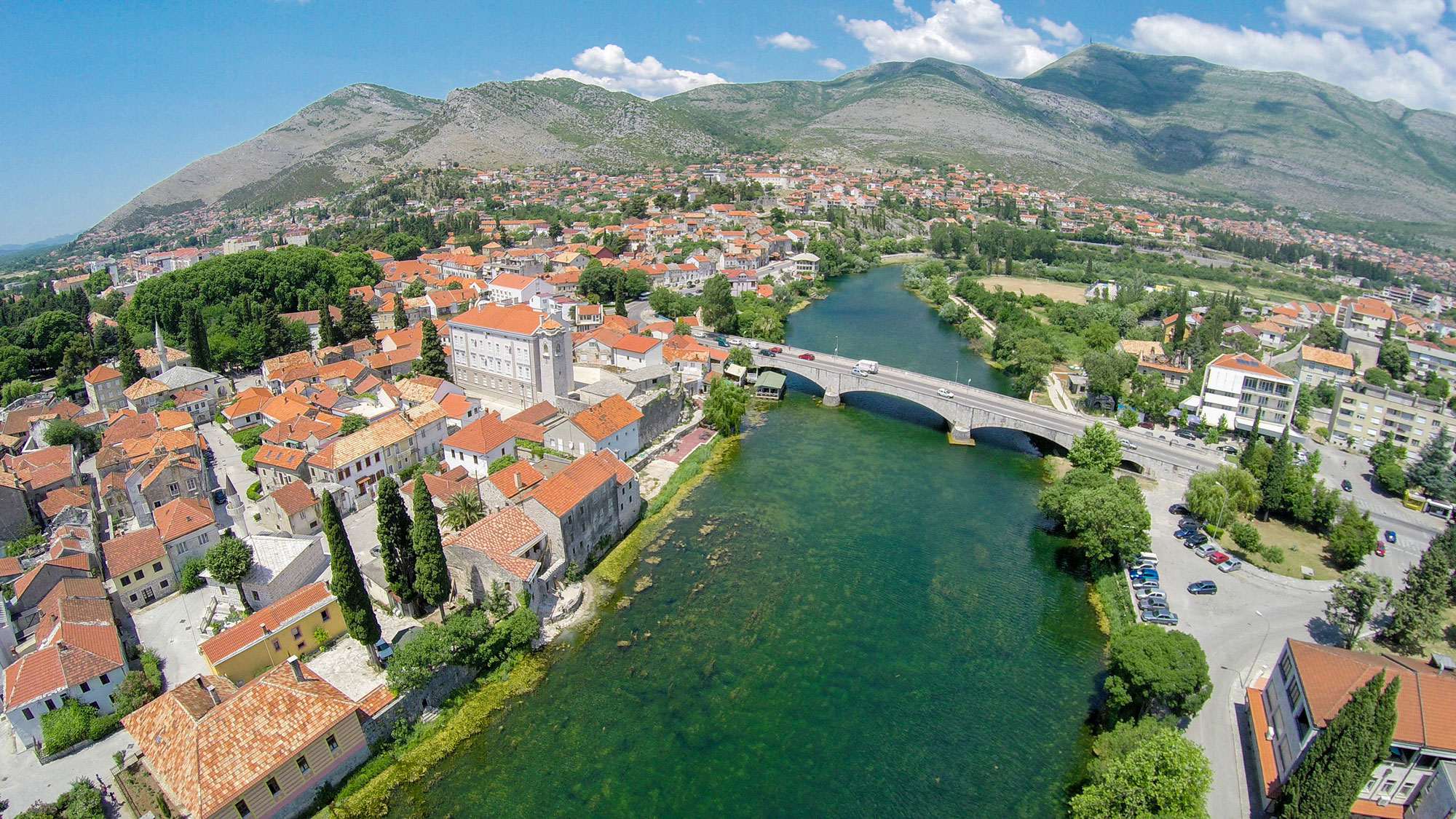 Links
 http://www.gotrebinje.com
http://muzejhercegovine.org/
https://kctrebinje.com/
More Trebinje videos at: https://www.youtube.com/watch?v=934a3PP01BE
Hashtags
FaceBook: #gotrebinje
Twitter: #gotrebinje
Key Information
Email address: gotrebinje@gotrebinje.com
Postal address: Jovan Ducic bb, 89101 Trebinje, Bosnia and Herzegovina
Contact:  Tourist Organization of Trebinje
Number of inhabitants: 32,000
Area: Urban
Number of tourism enterprises: n.a.
Credits/ Recognitions / Awards: Best Tourism promo video of the region, Best tourist organization in Bosnia and Herzegovina, The best web presentation for the site www.gotrebinje.com